Kentucky High School Athletics Association, - Kentucky Digital Library
Homewood Parks & Rec Swim Team . Brown, Richmond R. Results - dual meet. #6 Boys 50 Yard Free. AAAA. AAA. Name. Team. Finals Time. CSC. Katy Lydon. 1. AAAA. Cierra Campbell. 2 .. Results. (#3 Women Yard IM). TST. Ashlyn Pope. DQ. #4 Men Carter Richmond. CSC. 2 AAAA Anesthesia Record | First Quarter President finally meet in person at this year's . slow process, but a complete analysis of these survey results will . Richmond, VA Extra pool/Disney time Saturday. 6.
North Miami Swim Team 12; Team Weston Aquatics 10; AK Sharks 10; Hialeah Storm Swim Club 3; Trojan Aquatics 1; Bob Karl Swim Club 1. Male Team Scores 1. Plantation Swim Team ; 2.
Pine Crest School Coral Springs Swim Club ; 5. Martin County Aquatics ; 7. Fort Lauderdale Swim Team ; 9. Cane Aquatics ; Aqua Crest Swimming 92; Comets Swim Team 75; Team Weston Aquatics 73; Miami Dade County Aquatic Club 68; Flying Fish Swim Club 59; AK Sharks 57; Trojan Aquatics 47; Hialeah Storm Swim Club 44; Sea Dragons Swimming 44; Miami Springs Aquatic Club 41; Amphibious Assault Swim Team 7; Bob Karl Swim Club 6; Unattached Comets 5; Wellington Swim Team 5.
Individual results Girls' under Freestyle -- 1. Sharla Milne, Plantation T161: Courtney Randolph, Plantation T161: Girls' under 50 Breaststroke -- 1. Courtney Randolph, Plantation, Girls' under Butterfly -- 1. Girls' Free -- 1. Kirstie Jeffrey, Aqua Crest T161: Girls' 50 Breaststroke -- 1.
swimming - 2/3 - Waynesboro Family YMCA : Waynesboro Family YMCA
Girls' Butterfly -- 1. Kim Rogers, Fort Lauderdale T16 Girls' Breaststroke -- 1. Girls' Fly -- 1. Girls' Individual Medley -- 1. Girls' under Free -- 1. Rebecca Smiddy, Metro Aquatic, Victoria Dorante, Plantation, Caitlin Lichtner, Cane, Girls' Freestyle -- 1.
Latest News
Footer Menu - New
Search form
Girls' IM -- 1. Girls' Open Free -- 1. Girls' Open Breaststroke -- 1. Girls' Open Fly -- 1. Girls' Open IM -- 1. Boys' under Free -- 1. Nicholas Manousos, Aqua Crest T161: Boys' under 50 Breaststroke -- 1.
Nicholas Manousos, Aqua Crest T16 Boys' under Fly -- 1. Significant information on the development decline, and resurgence of girl's athletic competition is adequately chronicled in the records. Statistical information concerning scores and best records abound in the materials. Unfortunately, however, many films of previous KHSAA sponsored championship events, especially Boy's basketball tournament games, have been either lost or destroyed.
In addition, the photograph collection is very sparse. The majority of the processing of the records and all of the typing of the inventory, box labels, and other items was performed by student assistants assigned to the Archives. Their diligence and promptness in completing this project is deeply appreciated.
The Kentucky High School Athletic Association KHSAA was organized in Louisville in Aprilwhen a small group of male educational leaders met by appointment during the annual meeting of the Kentucky Educational Association to discuss the regulation of inter-high school athletic contests.
The writing of a constitution and by-laws was left to the organization's governing body, to be known as the Board of Control. The original board consisted of President Moses E. Ligon, principal of Lexington High School, W. Sterling and John H. The Board's initial meeting on September 22, established the KHSAA's purpose--to purify athletics and codify basic rules of player eligibility and athletic conduct.
Although the Association's Secretary, John H. Way, in his first letter to high school principals, declared that high schools had long felt the need for the influence of such an association only eighteen schools were sufficiently interested to join it. Enthusiasm for membership in the Association was slow to develop. During the s and s high school sports achieved greater popularity which in turn led to the rapid growth for the KHSAA.
The Association grew in part because it continued to adhere to its original purpose of developing and regulating high school athletics by the adoption of uniform rules of player eligibility and by making the school's principal responsible for their observance. Other contributing factors included the improvement of the status of the coach, and the promotion of boy's and girl's post-season championship tournaments in basketball.
By over schools had joined the Association, and the KHSAA's authority to impose penalties and sanctions against member schools violating rules and regulations had been upheld by the Kentucky Court of Appeals. In addition to determining player eligibility the organization performed many other functions such as determining tournament sites, managing the state high school championships, establishing rules and regulations of competition, controlling game officials sanctioning All-Star and out of state games, resolving scheduling conflicts, investigating player and crowd misconduct, and administering the Player's Protection Fund which paid claims to injured athletes.
Materials are arranged alphabetically by sport and then chronologically with information on the participants, game score, date of event, location information medium, and playing time. The majority of the films and tapes are concerned with the Boy's and Girl's Sweet Sixteen basketball final games and football championship final games.
Unfortunately, the collection is very incomplete. Many of the films, however, have either been lost or destroyed. In addition, the department has conducted an oral history project, interviewing long time men and women coaches, athletes, and administrators who have been closely associated with the KHSAA and high school sports. Baseball1Madison Central 7 v.
Nitro Swimming
Tape counter Madison Central 13 v. Tape counter Madison Central 9 v. Tape counter Basketball - Boys1Hazard 74 v.
Richmond, KY Film P.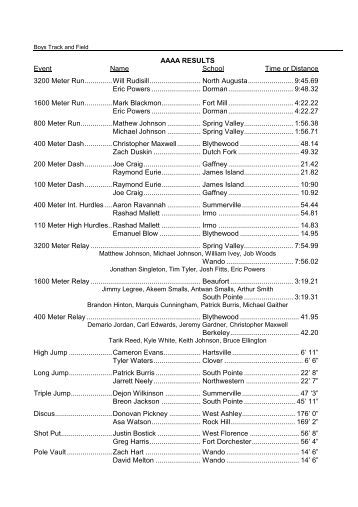 Louisville, KY Film, P. Russellville 16 Class A Championship November 28, Bellevue 7 Class A Championship, November 27, Volleyball1Our Lady of Providence v. Sawet Heat Girls State Championship, Board of Control SeriesThe Board of Control Series consists of one box of materials arranged chronologically and covering the years to Being the governing body of the KHSAA, the Board of Control deals with a variety of administrative matters including eligibility of players, determining tournament sites, questions of illegal use of athletes, and general office matters.
Within this series some information exists concerning the relationship of high school athletes and Kentucky politics, especially the vigorous campaigning by KHSAA President W. Files are arranged alphabetically by high school and then chronologically within each school. Records exist for around 1, schools and include the years through Most of the earlier records are eligibility lists of basketball teams from member schools. Many of the lists between and make mention of the women's teams from those years; after this, women's athletics do not reappear until around the mid-6Os.
After a slight break in the records during World War II the lists and correspondence resume in the late s. After the war many new sports start appearing. These lists could be of vital help to those doing genealogical research. Most of the correspondence in this series consists of letters to and from the KHSAA office and the member schools.
The letters discuss such topics as eligibility of players problems that occurred at ballgames, contract disputes and much more. The discussion inside these letters gives much insight to the day-to-day running of the KHSAA, as well as insight into the profound changes produced by school consolidation in the s.
During the earlier years, many of the eligibility lists can be found in either the Presidential Correspondence Series or the Miscellaneous Correspondence Series. Blazer High School Paul G. Agatha Academy High School St. Agnes High School St. Aloysius High School St. Augustine High School St. Bernard's High School St. Benedict High School St. Camillus High School St. Catherine High School Lexington St. Catherine High School St. Charles High School St. Frances High School St.
Francis High School St. Helens High School St. Henry High School St. James High School St. John High School St. Mary High School St. Patrick High School St. Romuald High School St. Stephen High School St. Thomas High School St. Xavier High School St. The two boxes are organized in chronological order, alphabetically by last name of the correspondent. The series runs from It consists of correspondence and listings of press passes and parking tickets issued for the tournament each year.
All minutes are arranged chronologically. Due to the lack of organization in the filing pattern found in some of the original records, it was decided to establish a Miscellaneous Correspondence Series. Documents found in the primarily consist of; Applications for Membership, Constitutions and By-Laws letters concerning trophies, basketballs, nets, salary, and letters from schools and institutions outside the state. Files are chronologically arranged by year and then alphabetically in folders according to the first letter of the school's name or sender's last name.
However, box is organized differently. Materials found in the box contain returned checks, receipts, bills, other fiscal records, award lists, and are organized chronologically This series should be used in conjunction with the Presidential Correspondence Series and Subject Series.